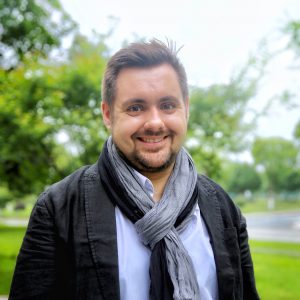 Vincent Peu Duvallon
Assistant Professor
Executive Director of  the School of Public Architecture
Office: GEH A313
E-mail: vincentp@wku.edu.cn
Courses
ARCH 1000: Introduction to Architecture
ARCH 1101: Studio 2, Architecture and Construction
ARCH 1201: Architecture History 1
ARCH 1601: Theory 1, Architecture and Urbanism
ARCH 1602: Architecture theory 2, Architecture and Construction
ARCH 2203: Architecture History 3, Modern and Contemporary Architecture
ARCH 2204: Architecture History 4, 18th and 19th Century Architecture
Education Background
09/2004-12/2007
Ecole Spéciale d'Architecture, Paris
DESA ( M.Arch) .French Architect Diploma.
Awarded for best Diploma 2008.
01/2006-07/2006
University of Hong Kong, Faculty of Architecture
Exchange in M.Arch.
09/2001-07/2003
Versailles Architecture School, France
D.E.F.A  Bachelor of Architecture.
Biography
Vincent Peu Duvallon is a Professor of Architecture at Wenzhou-Kean University. He received his professional degree at DESA in Paris, France, and has also studied at the University of Hong Kong and the Ecole d'Architecture de Versailles in France. He interned with two leading international architects, Christian de Portzamparc and Frederic Borel in Paris.
For the last decade, has maintained an active professional practice in Asia with built works in Korea and China. His work in Wenzhou and Shanghai has been recognized for the adaptation of antiquated factories into new mixed-use facilities as a part of a revitalization project in both cities. He has lectured about his work in China, Italy, France and the United States, and has served as a visiting faculty member at several schools of architecture in France.
Academic Experience
-Ecole Speciale D'Architecture, Paris: Student Assitant
-Ecole Speciale D'Architecture, Paris: Adjunct Professor
-University of Cagliari, Italy: Paris Visiting Professor
-Wenzhou Kean University, China: Lecturer
-Wenzhou Kean University, China: Assistant Professor
Research Field
-Adaptive Reuse of 20th Century Architecture
-Vernacular Urbanism and Landscapes
-Architecture Controversies Mapping
Design Projects
-GogoHoney Kids Bookstore, Interior Design, Wenzhou, China, 2019 (Built)
-D.O. Crossfit Club, Interior Design, Wenzhou China, 2018 (Built)
-Fiji house, Residential, Fiji Islands, 2017 (Design proposal)
-Wenzhou Kean University Design department Studios, Interior Design, 2015, Wenzhou China (Built)
-Mapo Korean Restaurant, Interior design, Wenzhou, China, 2015 (Built)
-Spanish Pavillion Store, Interior design, Shanghai, China, 2015 (Design Proposal)
-IT Creative Park, offices, Adaptive Reuse, Wenzhou, China, 2015 (Design Proposal)
-Hollywood Creative Park, offices and creative park, Adaptive Reuse, Shanghai, China, 2015 (Design proposal)
-Pasteur Creative Park, Adaptive Reuse, Wenzhou, China, 2015 (Built)
-Youth Hostel, hotel and housing, Seoul, Korea, 2015 (Design Proposal)
-YananXi Road Creative Park (Columbia Circle), 80 000 m2, Adaptive Reuse and Urban renewal, Shanghai, China, 2014 (Design Proposal)
-Foshan Cultural Center, Guangzhou, China, 2014 (Design Proposal)
-Mia Yoga, 150 m2 yoga studio, Wenzhou, China, 2014 (Built)
-Vivi Sisi Boutique, interior design, Fashion store, Wenzhou China, 2014 (Buit)
-Zeya Resort Project, Zeya, Wenzhou 2014- (On Going)
-City Cube, Shopping center, Facades and Landscape, Rui An, China 2014 (Built
-Congming Resort, Resort and Hotel, Shanghai, China, 2013 (Design Prosposal)
-Pingyang Cultural Village, Urban Design, Pinyang, Wenzhou, China, 2013 (Design Proposal)