Meng'Kok Tan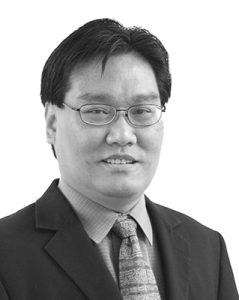 Lecturer
Interior Design
Office: GEH A407
E-mail: mengkokt@wku.edu.cn / metan@kean.edu
Courses
DSN1101: Visual Form 1
INTD 1100: Introduction to Interior Design
INTD 1100: Introduction to Interior Design
Education Background
Master of Fine Arts, Interior Design  [ 1996 ]
Bachelor of Fine Arts, Interior Design  [ FIDER Accredited,  1991 ]
Iowa State University | Ames, Iowa
Biography
Meng began his art and design study in 1985 and received a Diploma with concentration in Interior Design from LaSalle College of Art and Design, Singapore. He further his studies and received an B.F.A. (1991), and an M.F.A. (1996), in Interior Design from Iowa State University, USA., and subsequently practiced professionally in Singapore and the U.S. with experience and interest in hospitality and commercial retail design, and he is NCIDQ certified.
Current teaching interests include design theory, lighting design, visual communication – manual and digital graphic imaging, computer-aided design application, and cross-cultural and service-related learning. Research interest study conducted involving documentation of traditional Turkish houses; understanding of cultural, religious, and contexture influences on building typology. Current research interests involve lighting design, digital photography, and painting.
Also conducted design studio-related courses in Turkey and El Salvador involving the exploration of historical context, study of house typology, building preservation and conservation, and designing housing for special population.
Research Field
Design Theory, Contexture Studies, Digital Imaging, Photography.
Academic Experience
Meng has been a design educator for more than twenty years, and received two awards for teaching excellence. He taught a wide range of interior design courses at Iowa State University, Central Michigan University, George Washington University, University of Tennessee and the University of Georgia. Meng also won several design and photography competitions and his works exhibited in galleries in California, Colorado, New York, North Carolina, Pennsylvania and Texas.
Creative Work
Publications
Akkurt, C.T., Akkurt, H., & Tan, M.K. (1998-2001) "Inside Turkish Homes:
Documentation of Traditional Turkish Houses". Earthwatch, Center for Field Research.
Tan, M.K. (1995) "Understanding Disabilities: Examining Issues of Language and Portrayal." Interiors & Sources, June 1995, p.58-62.
Awards
Cumming First United Methodist Church Juried Exhibition | April 22 – 29, 2012
Festival of Arts | 770 Canton Highway | Cumming, Georgia | www.music.cummingfirstmethodist.com
Accepted – "Dance," "Dawn," & "Exit " (Photography)
2012 Lyndon House Arts Center 37th Juried Exhibition | Athens, Georgia | February 19 – April 21, 2012
Accepted – "Night Stall, " & "Geoffrey " (Photography)
Young Architects Forum (YAF) Atlanta | Photography Competition 2011 | www.yafatlanta.org
American Institute of Architects (AIA) | Atlanta, Georgia
Atlanta Fulton County Library | Atlanta, Georgia | October 22 – January 2012
Accepted – "Cannon Chapel " Series (Photography)
Accepted – "Int.07 " Cannon Chapel Series [3rd Place Award]
International Interior Design Association (IIDA) | September 22, 2011
Thrash 2 Treasure (t2t): Auction & Fundraiser | The Trolley Barn |Atlanta, Georgia
Accepted – "P+Q " (Lighting Fixture)
*Black and White 2011 | June 17 – August 6, 2011
The Center for Fine Art Photography | Fort Collins, Colorado | www.c4fap.org
Accepted – "Geoffrey " (Photography)
Cumming First United Methodist Church Juried Exhibition | May 8 – 15, 2011
Festival of Arts | 770 Canton Highway | Cumming, Georgia | www.music.cummingfirstmethodist.com
Accepted – "Berber, " & "Shy Boy " (Photography)
*SOUTHWORKS 2011 | 16th Annual National Juried Art Exhibition | April 1 – May 7, 2011
Oconee Cultural Arts Foundation | Watkinsville, Georgia | www.myocaf.com
Accepted – "Erkek " (Photography)
2011 Lyndon House Arts Center 36th Juried Exhibition | Athens, Georgia | February 20 – May 10, 2011
Accepted – "Huddle " (Photography)
2010 Interior Design Educators Council (IDEC), South Regional Conference | November 10 – 12, 2010
High Point University | High Point, North Carolina
Accepted – "Fairy Chimneys " Series (Photography)
Vanguard: Juried Exhibition Honoring Georgia Art Educators | June 3 – August 14, 2010
Quinlan Visual Arts Center | Gainesville, Georgia | www.quinlanartscenter.org
Accepted – "Door 17," "Huddle," "W 23," & "Untitled " (Photography)
Cumming First United Methodist Church Juried Exhibition | April 17 – 25, 2010
Festival of Arts | 770 Canton Highway | Cumming, Georgia | www.music.cummingfirstmethodist.com
Accepted – "Door 17," & "Huddle " (Photography)
*SOUTHWORKS 2010 | 15th Annual National Juried Art Exhibition | April 2 – May 8, 2010
Oconee Cultural Arts Foundation | Watkinsville, Georgia | www.myocaf.com
Accepted – "Stone Face 3 " (Photography)
2009 Interior Design Educators Council (IDEC), South Regional Conference | October 14 – 16, 2009
Meredith College | Raleigh, North Carolina
Accepted – "Guarding Windows " (Photography)
*2009 International Photography Awards (IPA) | Los Angeles, California | www.photoawards.com
Accepted – "Children of Kula " Series, & "Houses of Kula " Series (Photography)
*2009 Photomedia Center Open Juried Exhibition | September 2 – 24, 2009
Bruce Gallery | Edinboro, Pennsylvania | www.photomediacenter.org
Accepted – "Sandvic Adam " (Photography)
*2009 Alpan International Juried Exhibition | August 29 – September 26, 2009
Alpan Gallery | Huntington, New York | www.alpangallery.com
Accepted – "Incense-sation," & "Melody " (Photography)
*Digital Diversity Juried Open 2009 | June 22 – July 19, 2009
Topanga Canyon Gallery | Topanga, California | www.topangacanyongallery.com
Accepted – "Night Stall " (Photography)
30 and Beyond: College of Design Alumni Exhibition 2009 | August 3 – September 25, 2009
Gallery 181 | College of Design | Iowa State University | Ames, Iowa | www.design.iastate.edu/30/alumnishow.php
Accepted (on-line exhibition) – "Incense-sation " (Photography)
*LACDA 2009 "Top 40" International Juried Competition | May 14 – June 6, 2009
Los Angeles Center for Digital Art | Los Angeles, California | www.lacda.com
California Museum of Photography | Digital Studio Gallery | July 2 – August 22, 2009
University of California | Riverside, California | www.cmp.ucr.edu
Accepted – "Red " (Photography)
*SOUTHWORKS 2009 | 14th Annual National Juried Art Exhibition | April 3 – May 9, 2009
Oconee Cultural Arts Foundation | Watkinsville, Georgia | www.myocaf.com
Accepted – "Incense-sation," & "Red " [ Merit Award ] (Photography)
*2009 Juried Design Communication Exhibition | March 25 – 28, 2009
Design Communication Association (DCA), Biennial Conference | Atlanta, Georgia
Southern Polytechnic State University | Marietta, Georgia
Accepted – "Kula House," "88sk5," & "Library " (Digital Illustration)
*2009 Interior Design Educators Council (IDEC), Annual Conference | Saint Louis, Missouri | March 25 – 28, 2009
Accepted – "Painted Faces II " Series (Painting)
*Perspective Photo Show Juried Exhibition 2009 | March 20 – April 18, 2009
The Center for Fine Art Photography | Fort Collins, Colorado | www.c4fap.org
Accepted – "Red " (Photography)
2009 Lyndon House Arts Center 34th Juried Exhibition | Athens, Georgia | February 22 – May 9, 2009
Accepted – "Melody " (Photography)
2008 Lamar Dodd School of Art Faculty Exhibition | September 5 – October 3, 2008
Work exhibited –  "Painted Faces II " Series (Painting)
*7th Biannual Juried Exhibition | December 12, 2008 – June 12, 2009
2008 American Juried Art Salon | Plano, Texas | www.artjury.com
Accepted – "Zoey " (Photography)
*Double Exposure: Clay & Photography | December 12, 2008 – January 4, 2009
2008 Santa Cruz Art League | Santa Cruz, California | www.scal.org
Accepted – "Blue Brothers," & "Melody " (Photography)
2008 Interior Design Educators Council (IDEC), South Regional Conference | October 22 – 25, 2008
Auburn University | Auburn, Alabama
Accepted – "Painted Faces II " Series (Painting)
2008 Lyndon House Arts Center 33rd Juried Exhibition | Athens, Georgia | February 22 – May 7, 2008
Accepted – "Zhou Dewei " (Painting from "Painted Faces II" Series)
*2007 Design Educators National Exhibition (DENE) | Juried Creative Scholarship | www.dene.tcu.edu
Accepted – "Young Pride," & "On My Way " [ 3rd Place ] (Photography), "Ying Bu," (Painting)
*2007 Photomedia Center Open Juried Exhibition | www.photomediacenter.org
Photomedia Center | Erie, Pennsylvania
Accepted – "Shy Boy " (Photography)
*2007 Friends of the Earth International Photo Competition | www.foei.org
Accepted – "Floating Market " (Photography)  [ 3rd Place & FoEI Groups Choice Award ]